INDIAN VENTURE AND ALTERNATE CAPITAL ASSOCIATION
Established, for over a decade, by industry professionals with a unified aim to drive forward Alternate capital industry in India. The IVCA (Indian Venture and Alternate Capital Association) is India's apex body representing the interests of PE/VC industry, Real estate, Infrastructure and Credit funds, Limited Partners, Family offices & Corporate VC's.
IVCA is a non profit organization powered by its members. The member firms comprise of firms from around the world including investment manager, investment advisor, general partner, fund whose sponsors are sovereign wealth fund, pension funds, national Governments, large Government entities, bilateral/multilateral financial institutions; high net worth individuals and family offices.
ABOUT CONCLAVE 2022
IVCA conclave is India's premiere private equity and venture capital event. This annual flagship event is now in its 11th year. Focused on the Private Equity and Venture Capital investments in India, this exclusive event is designed to be an ideal environment for exchange of ideas, exploring business opportunities, securing long term source of capital, assessing regulatory scenario and high-end networking among the PE/ VC investors, Limited Partners, Family Offices, Entrepreneurs, Angel Investors, Consultants/ Advisors and other investment professionals.
0
LPs, GPs & Family Offices
0
KEYNOTE / GOVERNMENT SPEAKERS
0
HOURS OF INSIGHTFUL CONTENT
Networking feature on the event platform that will seamlessly allow participants to network, schedule one on one video calls.
At this years' IVCA Conclave we are  introducing an IVCA member only speed-networking feature – LP-GP Connect. This will take place in a virtual format and feature interactive rotations of one-on-one meetings between GPs and LPs joining us at the conclave from different geographies. A member only feature, who are pre-selected to ensure quality and facilitate deal-making in an efficient manner with meaningful crisp conversations.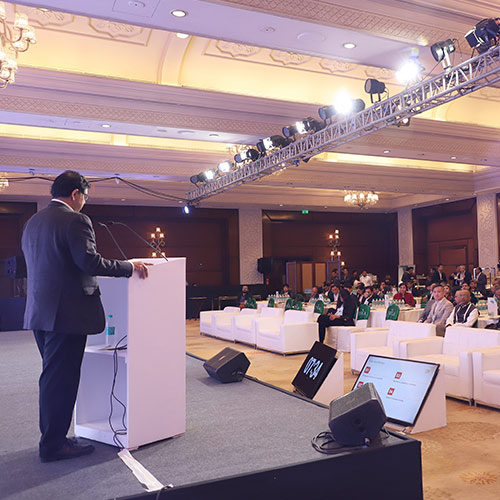 IVCA Conclave now in its 11th Year brings India's top General Partners together with some of the most influential Limited Partners from across the globe, along with other investors, entrepreneurs, law firms, accounting firms and others for high level debates, discussions and networking.

 

Over the period of three days there will be debates and discussions focused on the key industry goals:

Government of India's active involvement and support to both Domestic and Global investors.
The India PE, VC opportunity through reports and statistics around Demography, Markets, Asset classes & Investment opportunities, Innovation, R&D, Talent & Education, Legal framework, Domestic demand, etc.
Networking feature on the event platform that will seamlessly allow participants to network, schedule one on one video calls.